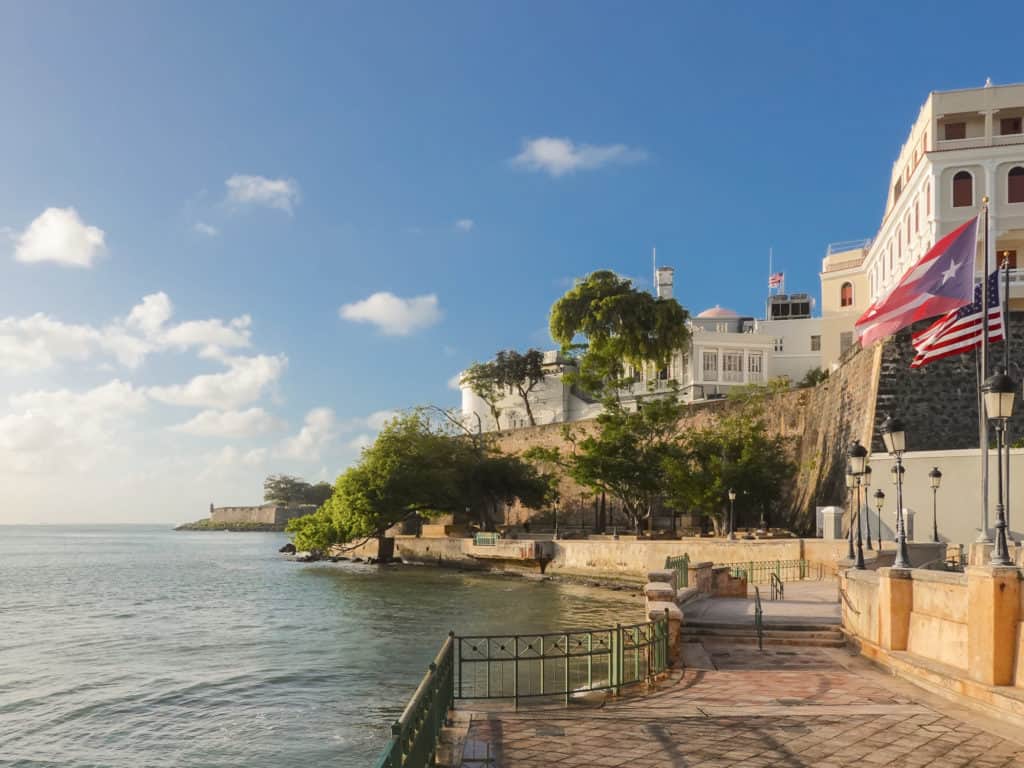 Things to Do in Old San Juan, Puerto Rico
I love a port day San Juan, especially to visit Old San Juan to be exact.  Almost every cruise to the eastern Caribbean includes a stop in San Juan, Puerto Rico. 
Old San Juan is located just a very short walk from the ship and there are plenty of things to do to fill your day.  I chose a guided walking tour to see places I may have missed on my last visit.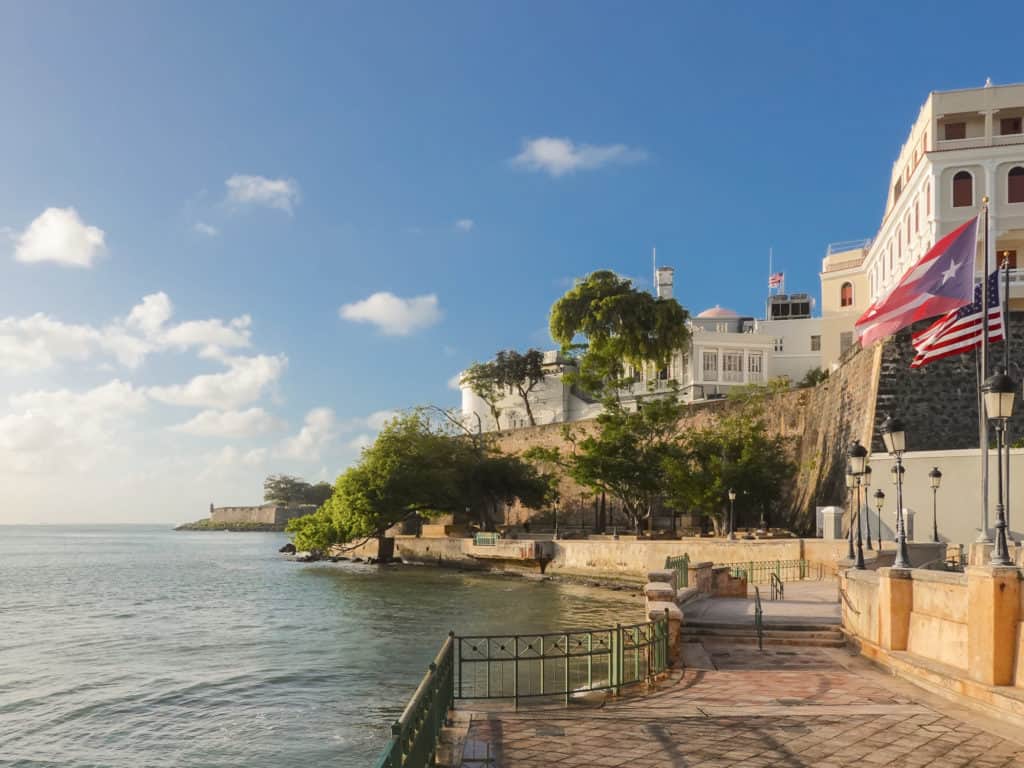 Things to Do in Old San Juan, Puerto Rico
Here are my recommendations for an easy breezy, day in Old San Juan.  
Instead of spending a long day on a shore excursion, I always recommend a walking tour through Old San Juan. Either on your own or with a tour group. 
There's plenty of time to explore the old city, even if you arrive at 3pm and depart at 8pm. The pier is right across from Old San Juan. 
Wake Up to See El Morro 
First things first. Grab your camera and stake out your space on the port (left) side of the ship for the magnificent approach into historic San Juan harbor.
You'll sail past what is possibly the most spectacular sight in the entire Caribbean.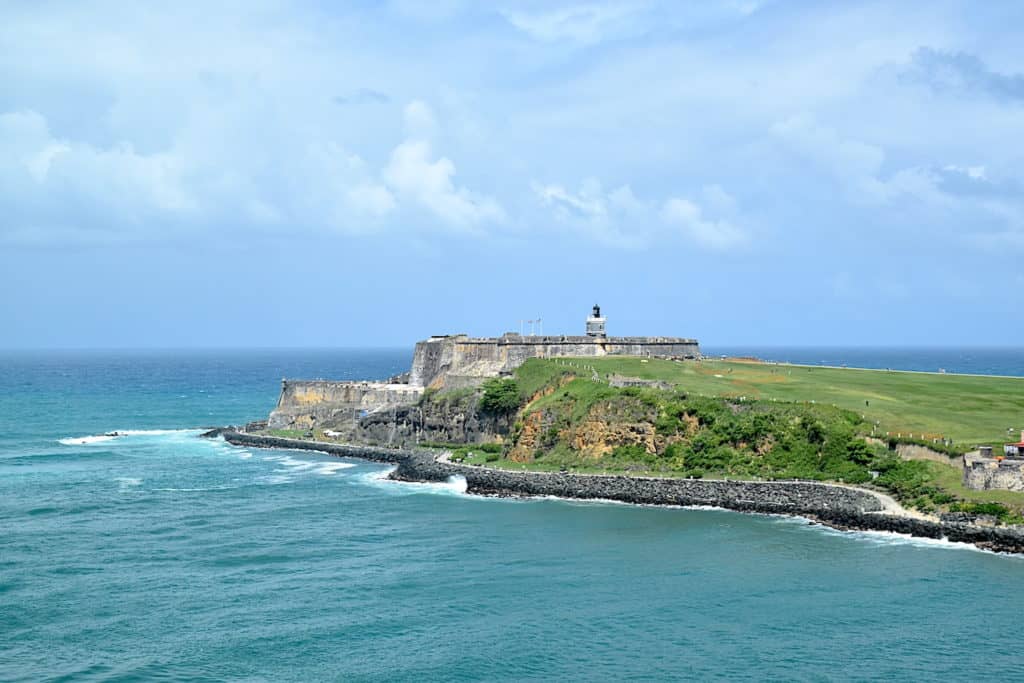 Rising majestically 140 feet above the sea, flying US, Puerto Rico and Spanish military flags, is Castillo San Felipe del Morro.
Nicknamed El Morro, the massive stone fortress sits on a rocky promontory surrounded by the Atlantic Ocean and the San Juan Bay.  
Built between 1540 and 1783 to protect its harbor and city from invasion, El Morro features a maze of secret access tunnels and dungeons.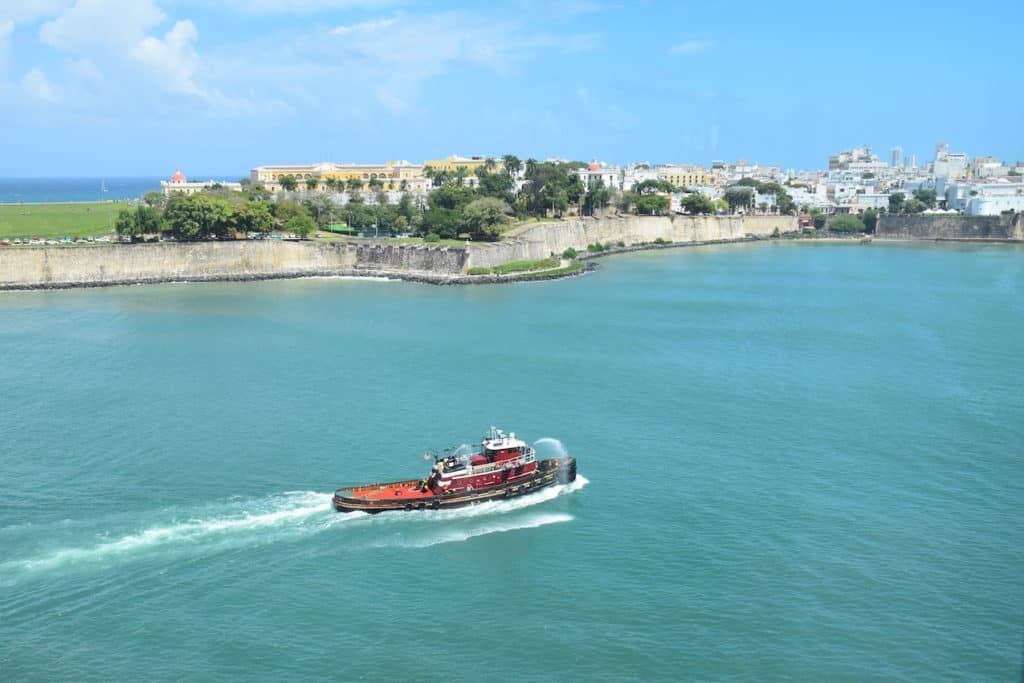 To get to El Morro, it's about thirty minutes to walk from the port.  There are two ways to walk to El Morro. 
Go straight uphill from the port through Old San Juan.  Along the way you'll pass small shops, quiet cafés, centuries' old churches and interesting architecture.  
The other way is to cross the street and go left and keep walking.  It's a much more level walk (just a few stairs) and you'll pass some historic and scenic lookout points. 
The second option, turning left from the dock, is how our Sunset Walking Tour guide chose to take us to El Morro and Old San Juan.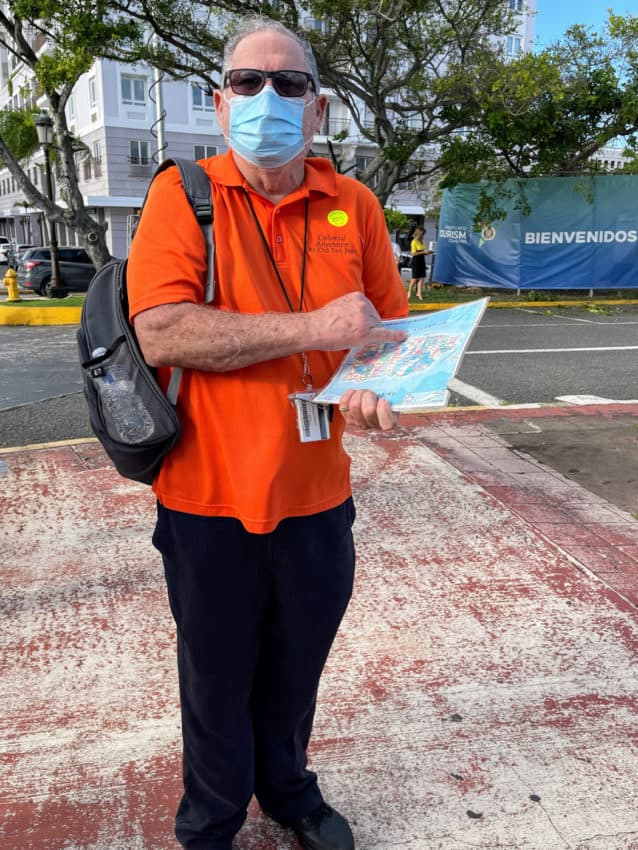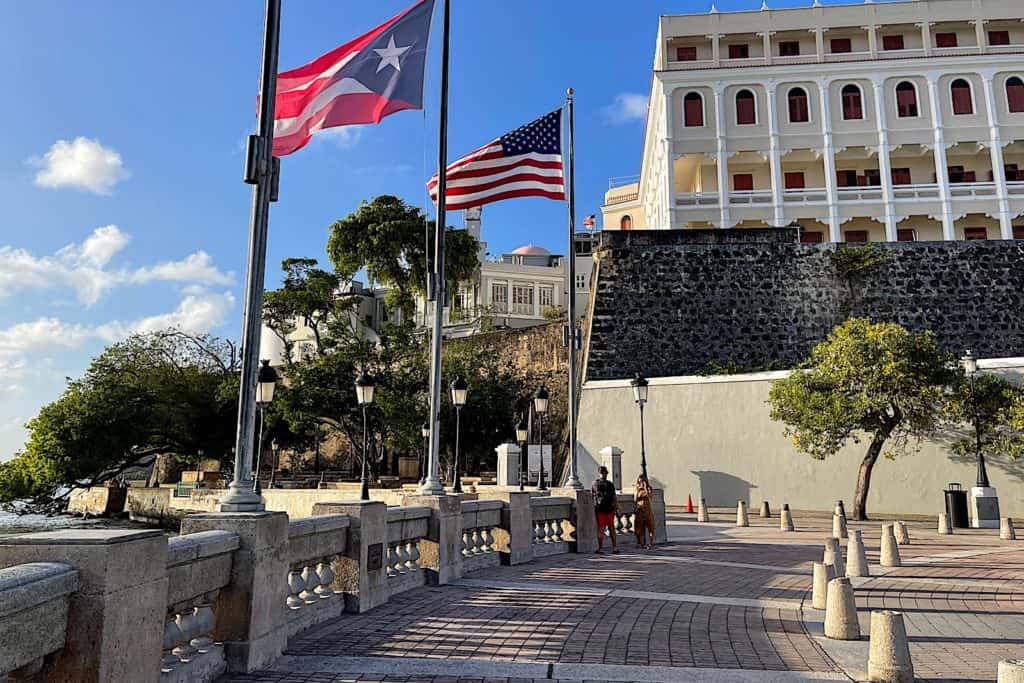 After our walk through several parks and neighborhoods, we arrived at El Morro.  Just in time for sunset. 
What to Do at El Morro Fortress in San Juan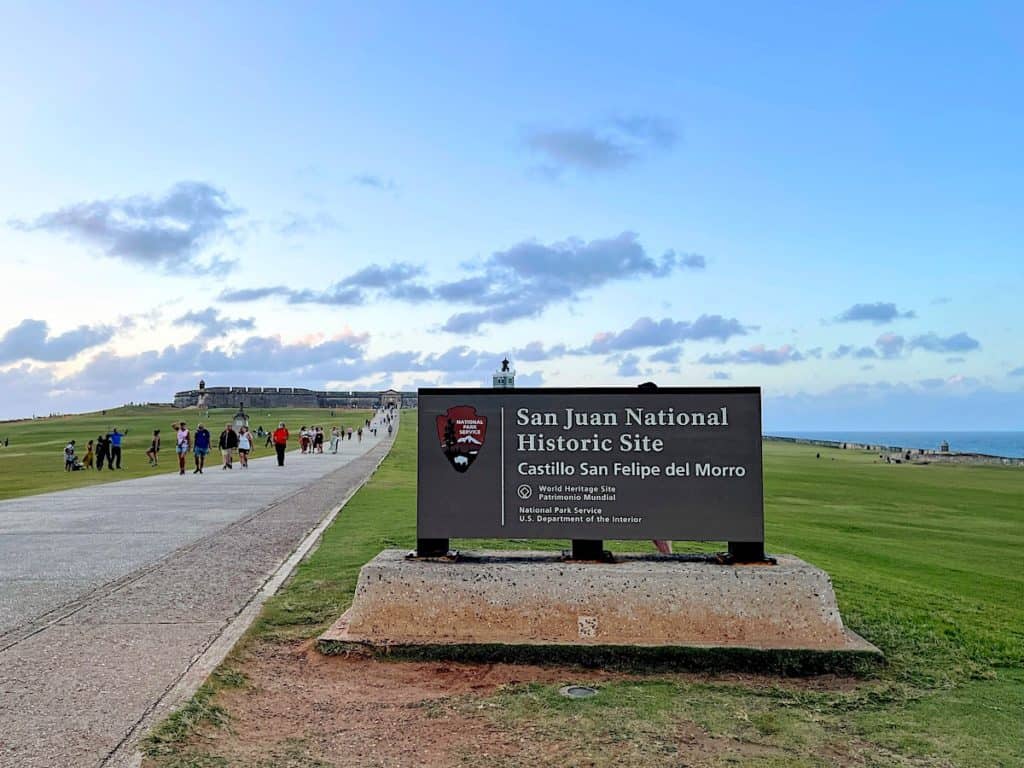 There is a small entrance fee to get into the fortress complex, but it's worth it.  This is a great place to bring the kids. Intrigue abounds with tales of daring pirates and sunken ships to keep their interest.  
Outside of the fort, there's an enormous park and gardens where kids can burn off some steam. If you're into history, there's a small museum that's run by the U.S. National Park Service.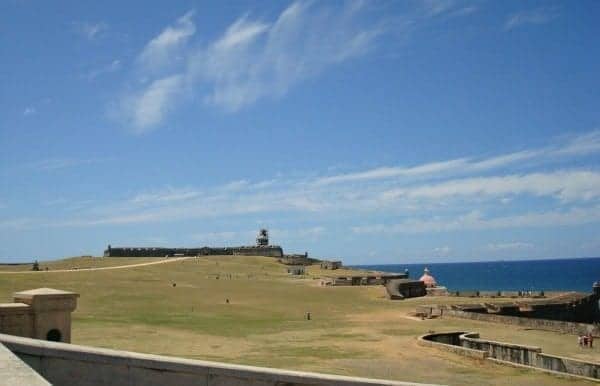 After touring El Morro, allow yourself at least a couple of hours to meander your way back through town. Old San Juan is a charming area where colonial ambiance is maintained with a good dose of national pride.
From magnificent 18th century Spanish architecture to cobblestone streets and well-kept doorways, a visit to this old city is like a journey back in time.
Though our tour didn't include a meal or snack, I've included a couple of places that I've had lunch in Old San Juan. 
Where to Eat in Old San Juan
Stop for a cold drink and lunch in the tropical courtyard patio at El Convento Hotel, a 356-year old former convent turned into an incredible 5-star hotel.  It's easy to miss this ochre-colored building with its black and white stone steps and heavy, dark wood entrance.  
Here's how to find El Convento.  Simply walk downhill from El Morro to 100 Cristo Street. There are many helpful uniformed police in Old San Juan ready to assist with directions.
READ MORE:  Try This Old San Juan Food Tour
After a snack and a drink at to El Convento, take a short detour into the Cathedral of San Juan Bautista.  It's the burial place of Juan Ponce de León,  the famous explorer who was looking for the Fountain of Youth.  
Some people believe the magical waters are somewhere in the rugged mountains of El Yunque.  Or maybe it's in one of the mojitos at El Convento!
Lunch option #2 with a local flare; a visit to the El Jibarito restaurant.  Located at 280 Calle Sol, El Jibarito is bustling at lunchtime with families, shoppers and a few tourists who have stumbled upon this Old San Juan favorite.  
While my friend ordered the minute steak, I went for a traditional Puerto Rican dish, roast chicken, plantains and rice.  I was not disappointed.
Where to Have a Drink in Old San Juan
Wind your way over to Barrachina, located one block from the Governor's Mansion. This is the restaurant in Old San Juan that claims to be the birthplace to the famous Pina Colada.  
Some people believe that, in 1954, it was Don Ramon "Monchito" Marrero, the bartender at the Caribe Hilton Hotel, who came up with the idea of a drink from mixing rum, pineapple juice, coconut cream and ice in a blender.  It's the island's favorite drink.
Make it a Beach Day Instead
Alternatively, if you'd rather make it a beach day, a short taxi ride from the port takes you to the popular Condado Beach, a small slice of paradise. Adjacent to pristine beaches, this lively tourism area hosts countless shops, restaurants, night spots, casinos and of course, hotels.
You can stroll Condado's main road, Ashford Avenue, and end up walking along a lovely seaside pathway. The avenue ends at a beautiful, intimate beach and the other side reveals the lovely Condado Lagoon.
Personally, I'd rather spend my day in Old San Juan, walking the narrow streets, taking photos of beautiful architecture and always stopping for lunch and a cool drink. 
Conclusion
On my first visit, I didn't know what things to do in Puerto Rico. I signed up for a shore excursion to El Yunque and really enjoyed the experience. 
If it's your first visit, you may want to take a morning shore excursion.  Then discover things to do in Old San Juan after your morning tour.
On this recent visit aboard Wonder of the Seas, we arrived into San Juan at 3PM.  That's why I purchased Royal Caribbean's "Sunset Walking Tour of San Juan".  Definitely worth the $60.00.  
When your ship has a full day in Puerto Rico, purchase a morning shore excursion that guides you through Old San Juan.
Then go off on your own to explore and stop to enjoy an authentic Puerto Rican lunch.  There will be plenty of time for shopping, too.
What ever you decide to do, you will surely enjoy your time in Old San Juan. 
Sherry Laskin
I'm the editor and creator of CruiseMaven.com, a solo t